Fresno County is a tapestry of different cultures and that is represented in our local restaurants. We're the perfect foodie heaven for those looking to try different cuisines in one spot!  We asked our staff what their favorite restaurant is in Fresno County. While it was difficult for them to pick just one place, they rose to the task offering suggestions we know will make your heart happy and belly full! Take a look at our staff picks below and see what got our stamp of approval.
Location: 3091 E Campus Pointe Dr, Fresno, CA 93710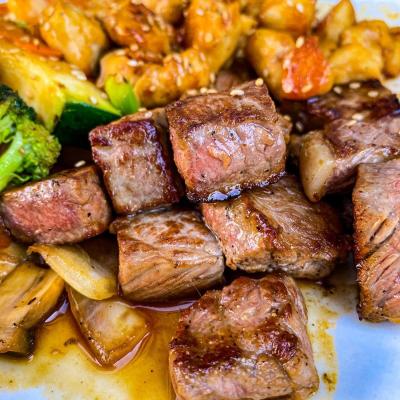 Hino Oishi offers high-quality Japanese cuisine giving you a great dining experience each time, and it's the favorite of our Sales Director, Andrew. You'll get delicious teppanyaki dishes and fresh sushi rolls for a great price. The name Oishi means delicious and Hino means every day in Japanese and they truly live up to their name. The service is always fast and is a great stop for lunch! Andrew's favorite here is the teppanyaki lunch special.
Location: 2225 W Shaw Ave #104, Fresno, CA 93711
Our Digital Content Creator, Daisy, loves Rock & Noodles in Fresno. The restaurant offers an authentic Korean experience. As you walk in you see artwork of famous Korean celebrities as drawings. You get a small taste of Korea as you dine in and try famous dishes along with drinks imported from Korea. Feel a warm welcome each time you stop by. Daisy's go-to meal here is a beef bulgogi plate that comes with fried rice and a side salad.
Location: 2321 Kern St, Fresno, CA 93721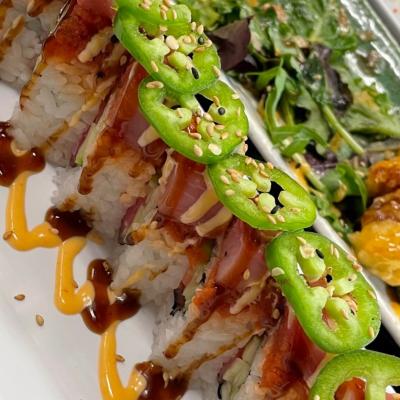 Umi Sushi is a hidden gem in Fresno County. This family-owned restaurant promises to serve the freshest Japanese cuisine along with wonderful service. It's a go-to place for our Adminstrative Coordinator, Darian. Get a taste of the various sushi rolls. Sit back and relax in this chill atmosphere on your lunch break or dinner time and experience the vibes yourself. Darian recommends the Spicy Tuna Hand Roll.
Location: 4965 N Fresno St, Fresno, CA 93726
Huong Lan 9 is a family-owned business offering different Vietnamese cuisine. They play Vietnamese music while you dine and the restaurant has a great family-friendly environment. Our Research Specialist, Dylan, loves to get the BBQ pork Bahn Mi sandwich.
Locations: 3085 E Campus Pointe Dr, Fresno, CA 93710 | 7050 N Marks Ave, Fresno, CA 93711 | 765 W Herndon Ave #200, Clovis, CA 93612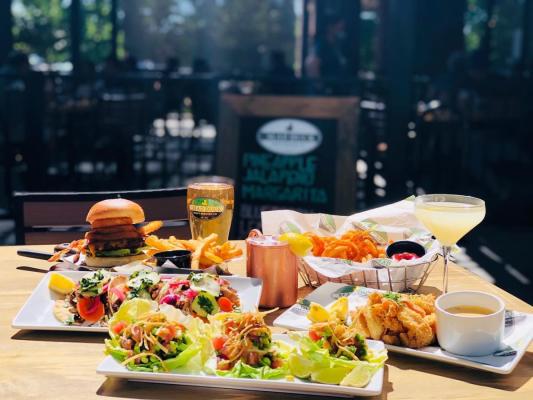 If you are looking for a great place to grab craft beer with delicious food you may want to try Mad Duck located in both Clovis and Fresno. This family-owned American pub serves high-quality food using local ingredients. It's the best place to gather with your friends or family making it the perfect hang-out spot. Receive a warm welcome when you dine here. The staff is friendly and is always willing to give recommendations. Our Marketing & Communications Manager, Hayley, loves the Nashville Chicken Sandwich or the French Dip. She always pairs it with their Pub Ale which has notes of toffee and caramel flavor along with apricot and peaches.
Location: 1484 Clovis Ave, Clovis, CA 93612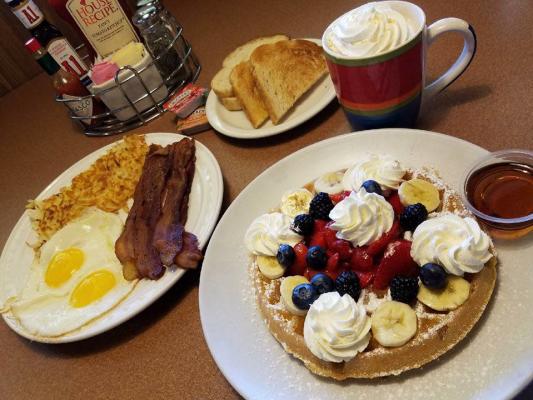 Nothing beats breakfast food! Old Town Waffle has been around since the 1960s offering delicious meals to the local hard-working cowboys and cowgirls. Stop by Old Town Clovis to take a look at this historical site! They offer a very friendly service and are a great place to visit with your family for breakfast. Old Town Waffle prides themselves on using fresh local ingredients making it hard to choose a favorite dish! Our Creative Content Specialist, Jackie, always gets the Huevos Rancheros.
Location: 1329 S Hazelwood Blvd, Fresno, CA 93702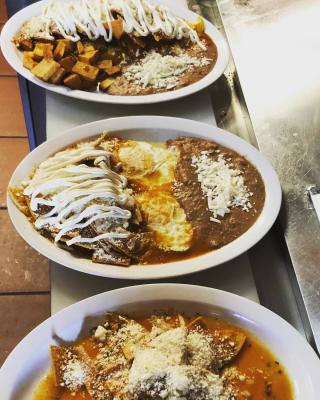 Our Housing & Sales Coordinator loves Las Mananitas in Fresno! This restaurant serves authentic Mexican food that will have you wanting more. Receive a warm welcome when you dine here. The environment feels cozy like you are at home. The owners are friendly and caring towards their customers. Each dish they make is cooked from the heart which makes the food taste even better! It's a great place to stop for breakfast or lunch. Try one of the classic Mexican food dishes like the burritos or Jaxie's favorite, the chilaquiles.
Location: 1134 E Champlain Dr #108, Fresno, CA 93720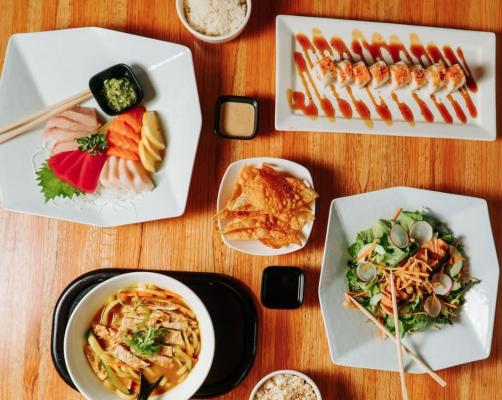 Namikaze is a Japanese sushi restaurant opened by three veteran friends who wanted to share this cuisine with the community. It's a top spot for our Events & Servicing Coordinator, Jenny. This place is special because it's not just your ordinary sushi it has a California twist to it!  Jenny's favorite here is the Kimono sushi roll.
Location: 1025 E Herndon Ave #106, Fresno, CA 93720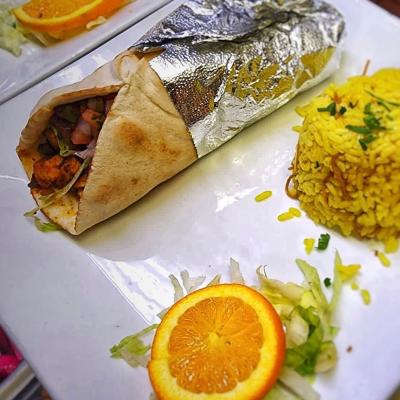 Phoenician Garden is a family-owned Mediterranean restaurant that offers a new take on traditional Mediterranean cuisine, and it's a favorite for our President/CEO, Lisa. The owner takes his cooking roots back to when he was a child in Lebanon and from working at a Mediterranean restaurant.  Phoenician Garden gives you a classic Mediterranean dish with a few American twists. Lisa loves to get their spicy chicken garlic wrap.
Location: 760 Pollasky Ave, Clovis, CA 93612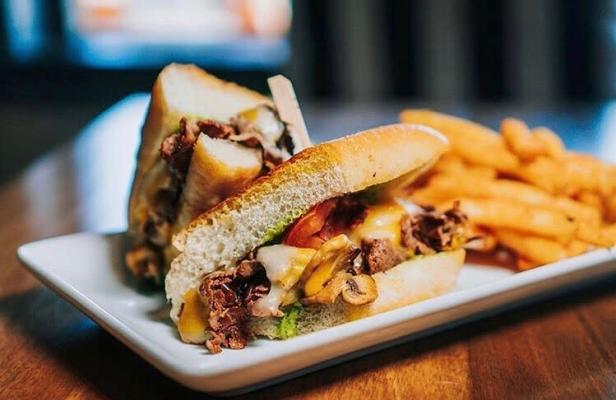 The Craft House takes pride in serving the community as well as giving you a welcoming environment. Our Vice President, Vanessa, loves this restaurant! It's located in the heart of Old Town Clovis inside a 100-year-old building. They serve specialty burgers and sandwiches, and they also have vegan options! Vanessa's go-to here is the Cubano or chicken and waffles.
Locations: 601 Pollasky Ave, Clovis, CA 93612 | 799 W Palmdon Dr, Fresno, CA 93704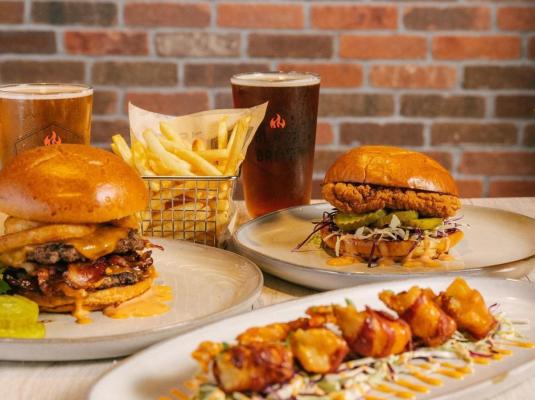 Blast N Brew offers a self-serve option for beer with over 26 rotating seasonal craft beers giving you a chance to try something new each time. Be sure to try their food as they take pride in using all local produce to give you an amazing taste of their American-style meals. The staff is very attentive and the atmosphere here is very chill. Our Sales Manager, Veronica, likes to get the steak salad.