As we wrap up celebrating a great Thanksgiving week, December is around the corner and so are all those Christmas traditions we love! What better way to get ready to welcome the Christmas season than by visiting a local tree farm to pick out a beautiful fir tree that will fill your house with holiday cheer!
Enjoy making memories at some of these locations that offer more than just a festive fun tree. Some of these spots will have food trucks, photo opportunities, artisan markets, music, a visit from Santa, and even a steam train ride!
Check out some of these Christmas tree farms in Fresno County to have a merry time with your loved ones: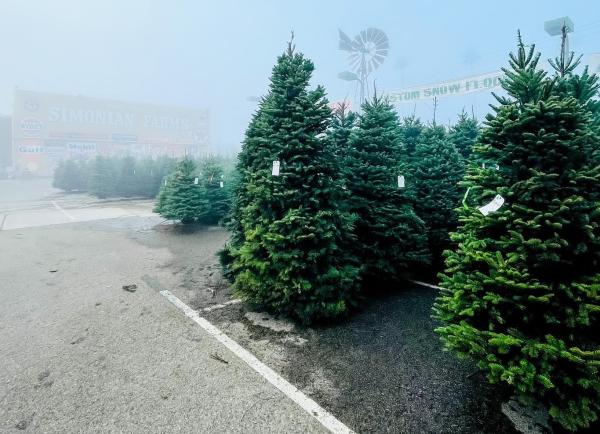 Location: 2629 S. Clovis Ave., Fresno, CA 93725
Hours: 9:00am - 6:00pm daily 
Find the perfect Christmas tree at the unique and fun-filled Simonian Farms. Their trees come in all shapes, sizes and are fresh and ready to decorate your home. Simonian Farms also offer premium custom flocking! While shopping for your tree be sure to stop by their cute little Christmas-themed photo booth stations for some pictures and pick up some holiday gift packs filled with locally grown nuts and sweets. 
Simonian Farms will also be collaborating with The Blue Bird Market for a Holiday Pop-up event on December 4th that will be featuring local artisans and creatives with their handcrafted products, wine tasting, Christmas tree sale, in-season produce, and holiday gift baskets! A perfect opportunity to pick up a Christmas tree and also specially made Christmas gifts. Click here for more event information.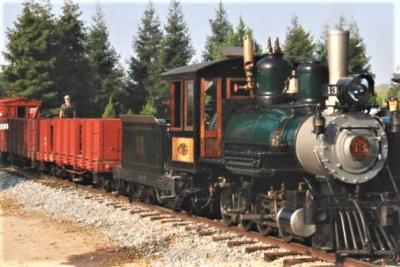 Location: 6943 S. Reed Ave., Reedley, CA 93654 
Hours: 10:00am - 5:00pm daily (Nov. 26 - Dec. 18 for Christmas Tree Season)
Visiting the Hillcrest Tree Farm in Reedley is a must for your Christmas bucket list! Get fully into the Christmas spirit by cutting your own Monterey Pine tree available at the farm. They also have pre-cut Noble, Douglas, and Fraser firs available to choose from. Flocking is available here as well. 
During this Christmas season, Hillcrest is filled with activities for the whole family to enjoy. Ride through their farm on their popular steam train (only on weekends). Take pictures with Santa Claus after eating a warm meal from local vendors Weekends only). Participate in their Pajama Night which entails dressing up in your pajamas and to enjoy the farm after dark (6:00pm - 8:30pm). There will be unlimited steam train rides through bright and colorful Christmas lights and displays as well as live music, cookies, a hot chocolate bar, and much more! This seasonal event is quite popular, so be sure to purchase your tickets as soon as possible so you won't miss out on all this Christmas fun! Purchase tickets here.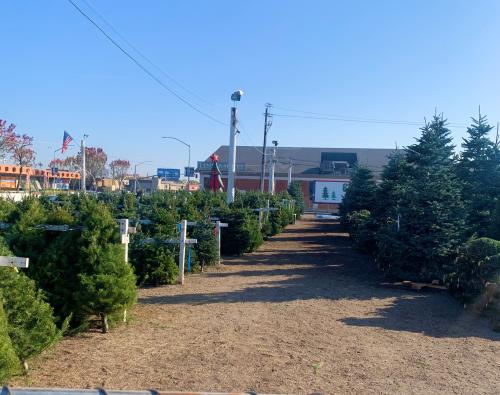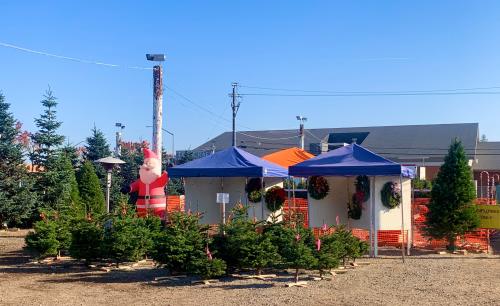 Location: 63 W. Shaw Ave., Fresno, CA 93704 (Shaw & Blackstone)
Hours: 10:00am - 6:00pm
With 30 years of experience in Fresno, Skookum Trees is a family-owned Christmas Tree Farm that offers freshly-cut trees, beautiful wreaths, flocking, fire proofing, and delivery. They welcome everyone, new or returning customers, with a warm smile and helpful service. Once you're in the neighborhood, stop by the Vineyard Farmers Market which is right across the street from Skookum Trees and join them for their Holiday Gift and Craft shows on Saturdays November 26, December 3, 10, and 17. Starting at 7:00am and going until noon, this event will feature local art, gifts, food vendors, and music! Find more event information here.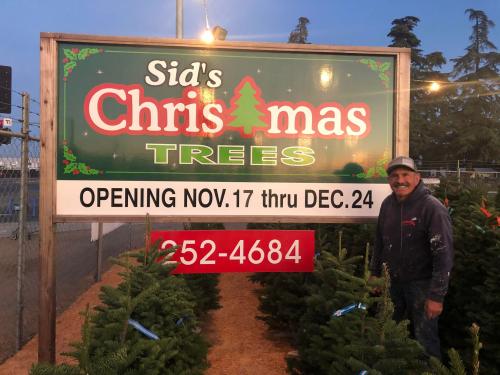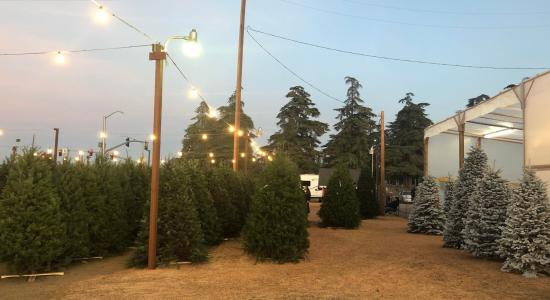 Location: 350 N. Villa Ave., Clovis, CA 93612 (Herndon & Hwy 168)
Hours: 8:00am - 10:00pm daily
Established in 1979, Sid's Christmas Trees has grown into a beloved place for the Fresno community. Business owner Sid Boolootian travels every year to Oregon and Washington to bring back trees to fill his lot. Customers always leave with a satisfied buy due to the friendly and reliable services Sid's Christmas Trees offers (flocking is also available). Just four minutes away is Old Town Clovis which is already beautifully decorated for the holidays. Shop for more local gifts at their antique & boutique shops and stop in for some hot cocoa at Kuppa Joy Coffee. 
Location: 14500 E. Mountain View Ave., Kingsburg, CA 93631 (Mountain View & Zediker)
Hours: 9:00am - 9:00pm (Tues.-Wed. & Fri.-Sun. Closed on Mon. & Thurs.)
Known to have great quality Christmas trees and a well-maintained tree farm, "R" Christmas Trees greets all their customers with a kind-hearted welcome and does their best to offer more than just a dazzling Christmas tree. They strive to help families have a delightful time as they walk through the many rows of woodsy aromatic firs. They offer flocking and also help customers with any other questions with how to maintain their trees. They're real experts in Christmas trees and have been around for more than 20 years! Don't forget to stop by the cute Swedish Village in Kingsburg that is decorated for the season (along with their Swedish architect and monuments) and offers over 30 restaurants and unique gift and collectible shops where you can find some superb gifts for your loved ones. 
Discount Christmas Trees or Christmas Trees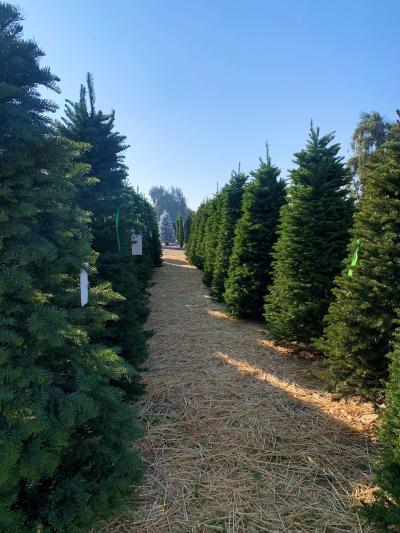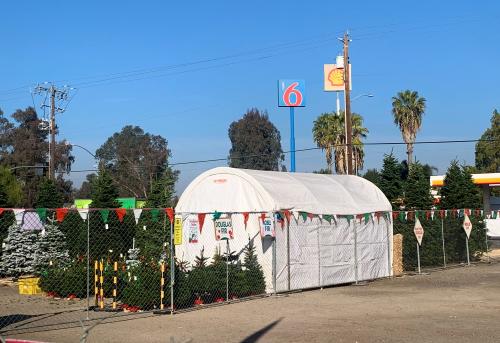 Discount Christmas Trees Location: 4975 N. Barcus Ave., Fresno, CA 93722 (Shaw & Hwy 99)
Christmas Trees Location: 3519 W. Shaw Ave., Fresno CA 93711 (Shaw & Marty)
Here are also two other great Christmas tree farms that may be in your vicinity. They have a wide variety of trees and are both located about 6 minutes away from each other on Shaw. These tree farms are also not too far away (about 10 minutes) from shopping areas like the Fig Garden Village (if you're heading east on Shaw) or the Marketplace at El Paseo (if you're heading north from Shaw toward Herndon). Complete your gift shopping and tree shopping in one day by visiting these local tree farms. 
Another Christmas Tree Location: 
Armstrong & Shaw in Clovis, CA 93611
Happy Tree Shopping!