Journey through 70 miles of pink and white blossoms along the The Fresno County Blossom Trail — a gorgeous representation of the county's leading agricultural footprint. Drive through this flurry of petals to enjoy the ultimate California floral blizzard and experience the fun stops along the way like a local! 
Location: 2629 S Clovis Ave, Fresno, CA 93725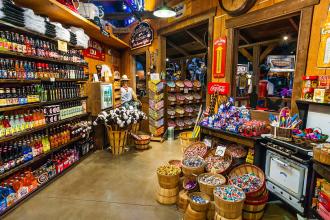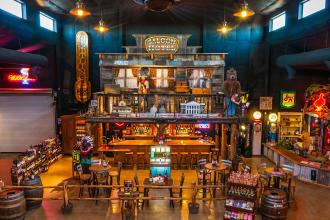 Simonian Farms grows more than 120 varieties of fruits and vegetables and is home to a historic collection of farm equipment and memorabilia. Stop by the farm's market to sample and purchase seasonal produce, local dairy products, dried nuts, candies, jams and wine. Experience Simonian Farms western Old Town, an old-fashioned country store featuring unique candy and a Route 66 shooting gallery. Choose from more than 100 flavors of vintage bottle soda pop or wines in the Old West Saloon. 
Simonian Farms is open seven days a week. Click here for their hours.
Location: 6943 S Reed Ave, Reedley, CA 93654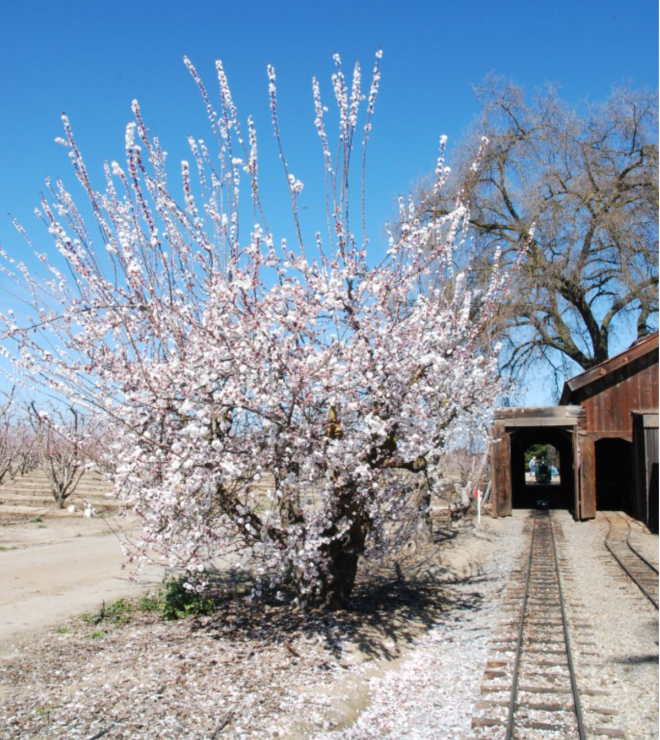 Hop on board the Hillcrest and Wahtoke Railroad's Blossom Trail Train Ride and ride through the blossom orchards of Hillcrest Tree Farm. The train runs a little over a mile. You can also enjoy food vendors set up on the farm! 
Hillcrest Tree Farms will announce the opening dates for the Blossom Trail Train Ride soon. Click here to visit their website.
Location: Routes TBD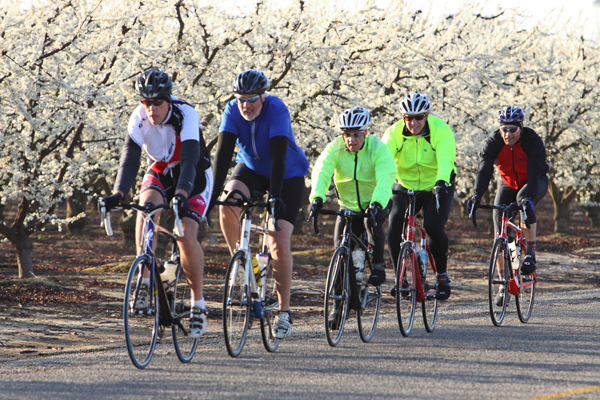 Get your helmets and bikes ready for the 33nd Annual Blossom Bike Ride that will be taking place on March 4, 2023. Join in on the fun and ride besides the gorgeous blossoms. There are three different routes participants can choose from: 10, 20, 40, and 50 miles. Whether you're looking for a more scenic landscape for viewing pleasure or more of a challenge by going through the foothills outside of Reedley, this is the bike ride for you!
Location: 1018 S Frankwood Ave, Sanger, CA 93657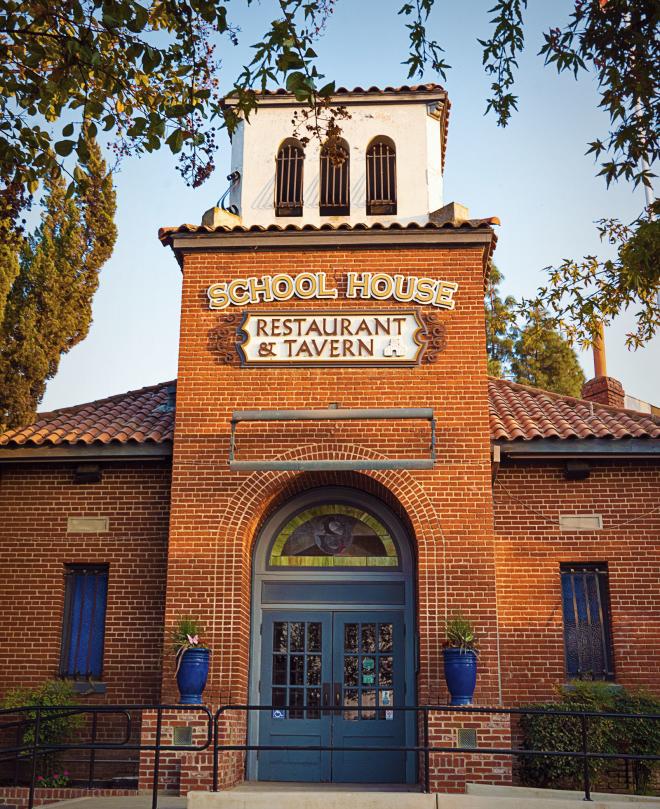 Enjoy the view of blossoms and hills while you feast on meal prepared at School House Restaurant & Tavern in Sanger. Besides having some of the best house made New American cuisine, the restaurant is an elegant rustic establishment that is ready to welcome anyone who walks in.
School House Restaurant & Tavern is open Wednesday through Sunday. Click here for their hours. 
Location: 1475 Draper St Kingsburg, CA 93631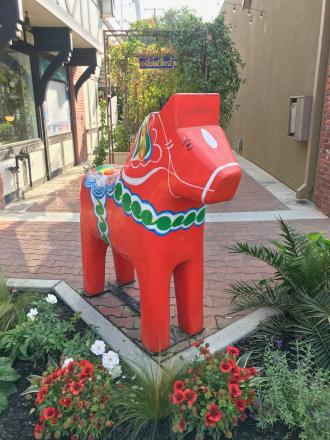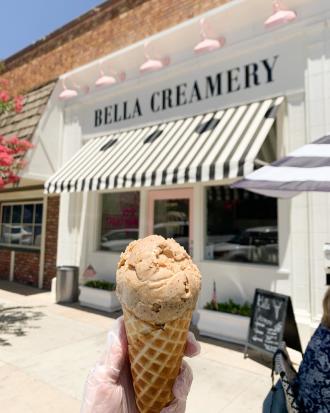 Kingsburg Swedish Village features wonderful intricate Swedish architecture, Dala horses, Swedish flags, and bay trees. Discover the Swedish downtown featuring over 30 restaurants and unique gift and collectibles shops. Visit the Kingsburg Chamber of Commerce & Visitor Center - and receive a hearty Valkommen to Fresno County! While you're downtown, stop by Bella Creamery for a cool treat! Choose a scoop of their ice cream with either cow or sheep milk in a variety of flavors, such as Salted Brown Sugar, Pistachio, and Peanut Butter Chip. 
Location: 1849 Industrial Way #103, Sanger, CA 93657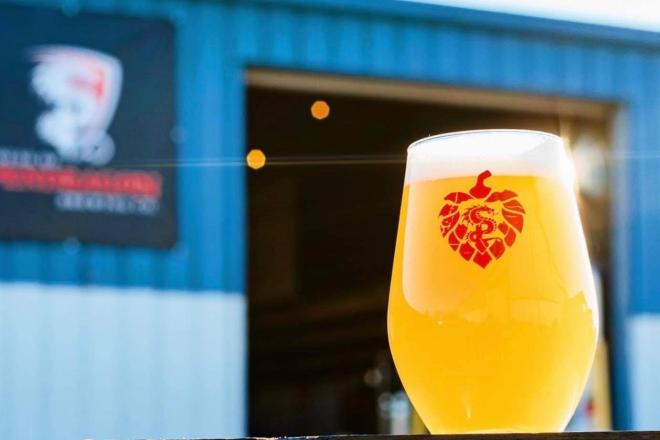 House of Pendragon uses modern brewing techniques and the latest ingredients to embrace their one-of-a-kind flavors. H.O.P. loves to be involved with the local community by creating opportunities to join in on the fun with their Pub Quiz nights or seasonal popular-themed drinks. They host a number of events and activities that can be found on their Instagram or website.
House of Pendragon is open Tuesday through Sunday. Click here for their hours.
Sanger Blossom Trail Festival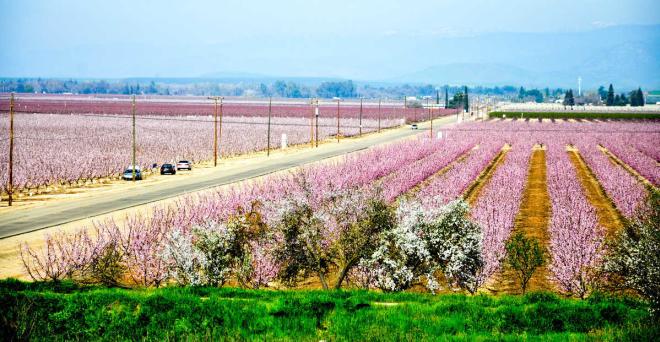 Visit Sanger where the blossoms keep on blooming and enjoy the Blossom Days Festival that is filled with vendors, music, and lots of family fun activities. Learn more about the blossom trail and its many fruits to come from the local experts! Don't forget to catch a glimpse of some sweet rides at their annual classic car show.
Dates for the Sanger Blossom Trail Festival will be announced in early 2023.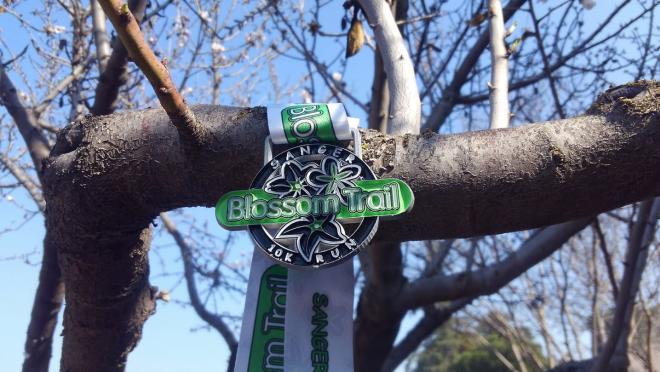 Desiring to experience the Blossom Trail at a closer view? Why not run along with the blossoms at Sanger's Blossom Trail Run! Families can take part in the quarter mile walk/run. There is a 2.2-mile walk/run and for those looking for more of a challenge, run or walk a 10K through the trails.
Click here for registration information.
Location: 1044 G St, Reedley, CA 93654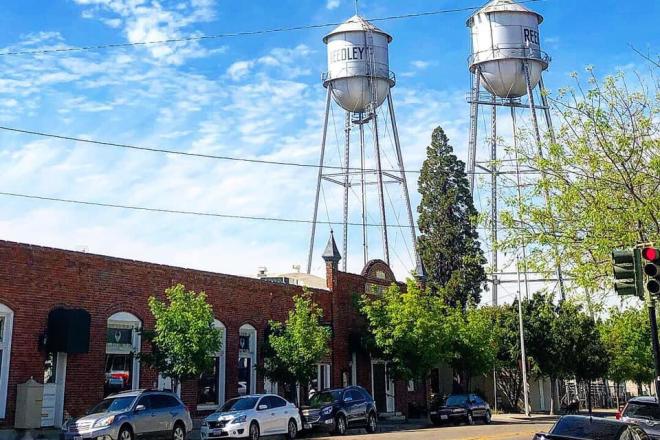 Venture to Downtown Reedley along your way through the Blossom Trail. The area is filled with specialty shops (check out The Nest which is full of unique gifts and home decor).Stop for lunch at local restaurants like The Wakehouse, Uncle Harry's, Valentino's, and Main Street Café that have been local favorites for decades. Or visit the restored opera house that was built in 1903. Craving something sweet? Stop by this cute candy and gift shop, Sweet Destination. They have a variety of handcrafted chocolate and candy, toys, trinkets, and gifts for any occasion.  
Location: 1384 S Frankwood Ave, Sanger, CA 93657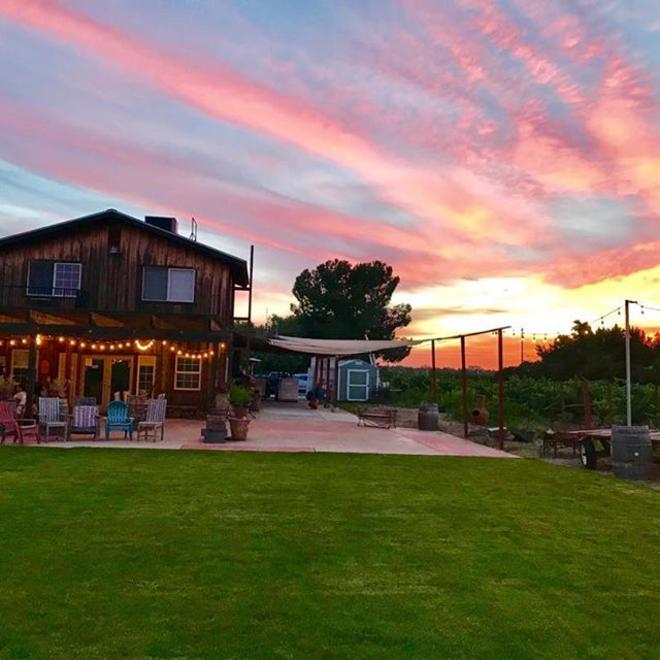 Enjoy wine tasting at Cedar View Winery. Taste traditional and handcrafted wine and learn about the wine making process. The winery has a stunning view of the Fresno County foothills and hosts several live musicians.  
Cedar View Winery is Saturday and Sunday. Click here for their hours.
Orange Blossom Trail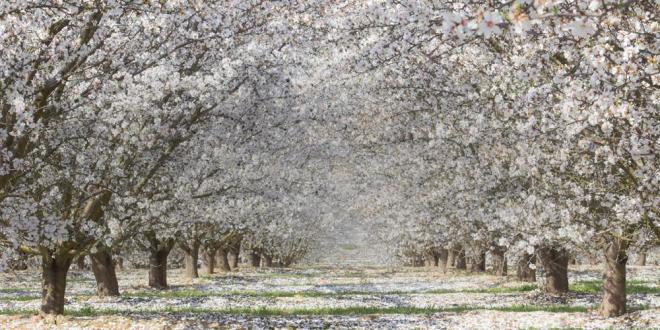 Orange Cove is home to the Orange Blossom Trail, an extended route of the Fresno County Blossom Trail. Drive along this citrus region that blossoms with color and amazing fragrance. The Historic City Hall of Orange Cove and Downtown shops and eateries also offer a welcoming cultural experience.
Raisin Capital of the World
Location: Selma, CA 93662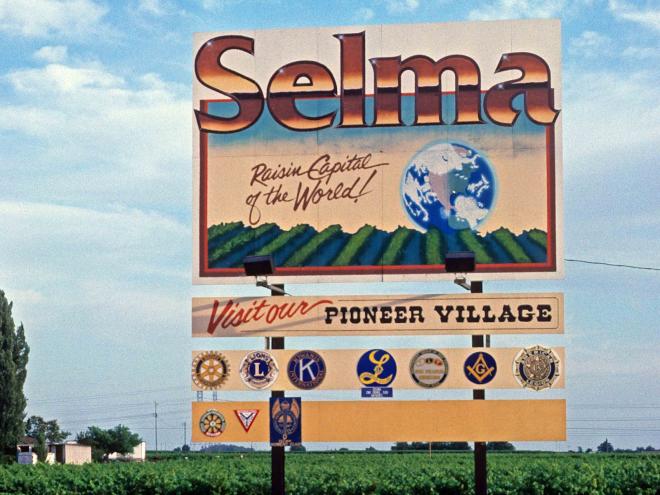 Selma is known for being the Raisin Capital of the World, producing 90% of the raisins in the United States. Visit this lovely city that stays connected to their community by supporting local shops and restaurants and hosting ongoing fun events for all ages.