It's that time of year again! February is a special time in Fresno County as all the almond orchards are in bloom, turning the rural areas of the county various shades of pink and white. Have you ever wondered what goes into producing these stunning crops? Here's a hint: it's a lot! There's a reason Fresno County is known as the top almond producing county in California.  
The Almond Harvest Process
Almonds are Fresno County's #1 commodity, grossing $1.4 billion in 2021, according to the Fresno County Farm Bureau. Local farmers produce roughly 728 million pounds of almonds per year—that's 25% of the total almond production in California. The crop starts as a bloom, typically white or pink in color, with five petals and sepals. The color of the blossom depends on the variety of almonds.
"Various chemicals in the plant are affected by the wavelengths of light, yielding various colors," said Fresno State professor and farmer, Richard Stoltz. 
Pollination
As you drive along the trail, you may notice groups of white boxes near the orchards. These are bee hives placed by farmers to pollinate the blooms. Without those bees, the trees would not be able to produce. After pollination the blooms will soon turn into almonds during the "effective pollination period."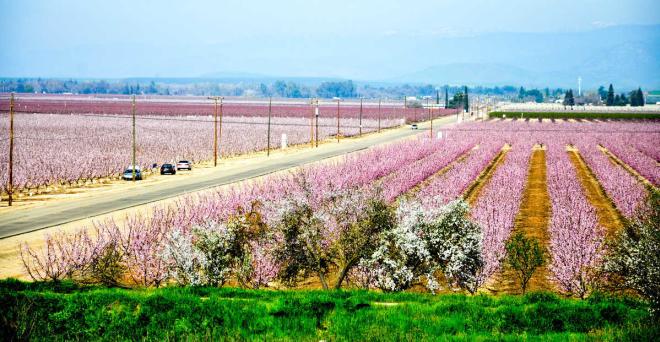 Harvest
Come harvest time, farmers will go through the orchards with an almond tree shaker. This machine grabs the base of the tree, shakes it and knocks the almonds off the tree. Once all the trees are shaken, a sweeping machine is driven through the orchards to compile the almonds to the middle of the row. 
The nuts remain on the ground anywhere from 4-14 days to dry naturally in the sun. During this process, they are protected by their outer shell, called the hull. 
Almonds bloom in mid-February and harvest usually begins in August. Depending on the variety and location, a nut may be fully developed by mid-May but continues to gain weight until it is fully mature," Stoltz added. The whole process takes about six to seven months.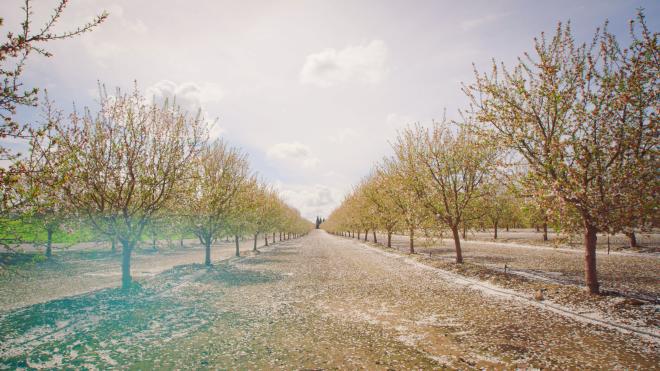 Hulling and Shelling
After spending a few days drying, the nuts are picked up and taken to a hulling and shelling plant where they will begin the field-to-table process. 
Farmers work hard year-round to achieve a successful crop, providing for their community and country. You can take part in the annual tradition of driving along the Fresno County Blossom Trail and appreciate the process of cultivating this magnificent crop! When you visit, be respectful and avoid entering the orchards to prevent any damage to the crop. 
The Blossom Trail is a beautiful sight you do not want to miss! Plan a trip any time from mid-February to mid-March to see it first hand and visit the many stops along the trail.