"These boots are made for hiking and that's just what they'll do..." Now that fall is here! 
Whether you're a fall hiker or not, you can't deny the pure joy of a cool fall breeze against your face while you hike up a steep mountain surrounded by the changing leaves. Or appreciate the less crowded trails now that the peak season is over. Nature is beginning to transition and even though our three nearby national parks (Yosemite, Sequoia and Kings Canyon) are filled with mostly evergreens, there is still fall foliage to enjoy.
See how the meadows are full of bracken fern and tall grasses turn into pretty fall colors. Spot big-leaf maples, black oaks, Pacific dogwoods and other deciduous trees begin to show off of some fall foliage. These beautiful fall colors are sure to take your breathe away — a little more than you may already be from hiking all day! 
Here is a list of hikes in Yosemite, Sequoia and Kings Canyon National Parks to check out for some fall fun! Some of these trails might show more foliage than others, but overall you will still have the urge to take some fall selfies with your hiking buddies!
Yosemite National Park Trails
Length: 6.5 miles
Elevation gain: 200 ft. 
Difficulty: Easy-moderate (depending if you do the full loop of 13 miles)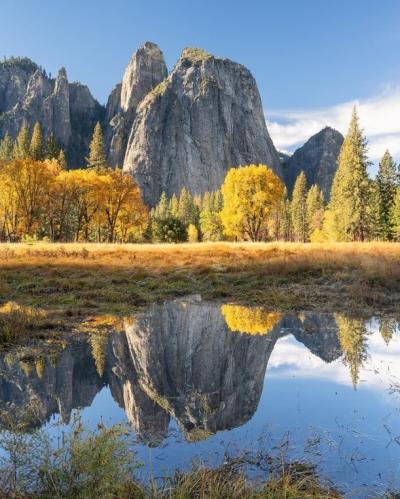 Travel through the Yosemite Valley Floor by hiking one of the simplest day hikes in Yosemite National Park - the Valley Loop Trail. Showcasing some of the best views like Yosemite Falls, El Capitan, and Sentinel Rock, and many more of nature's treasures. Hikers either have the option to do the full loop or the half loop which is around 6 miles. This low elevation gain trail helps hikers take in all the beautiful and classic Yosemite views! Click here for trail map/details.
Length: 6.2 miles
Elevation: 1,049 ft.
Difficulty: Moderate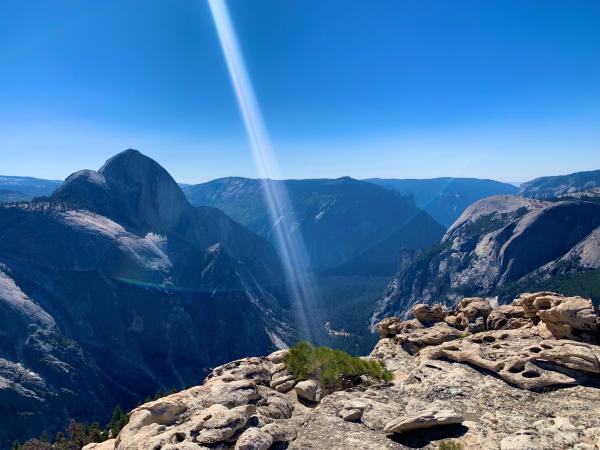 If you're looking to visit Yosemite but don't want to be bombarded with crowds, Mount Watkins is the place to go! Mount Watkins offers front row seats and a whole different perspective of Half Dome, Yosemite Valley, and Clouds Rest. Sitting at the outlook of Mountain Watkins really makes these enormous granite monoliths look so close up that one might feel like they can almost touch them! To get to the trailhead, visitors will also get to drive through Yosemite Valley (already showing some fall colors) and to the famous Tunnel View if you would like to take a quick pitstop. The way to the outlook of Mount Watkins is mostly descending and mostly shaded. It's the way back that is a bit more of an incline workout since the hike was mostly going down at first. October makes the weather so perfect to venture out there but be sure to check beforehand because there might be some rain on some days! Click here for trail map/details.
Length: About 7 miles
Elevation: 2,162 ft.
Difficulty: Moderate-hard (depending if you're going to also Nevada Fall and not just Vernal Fall)
**Open on only weekends**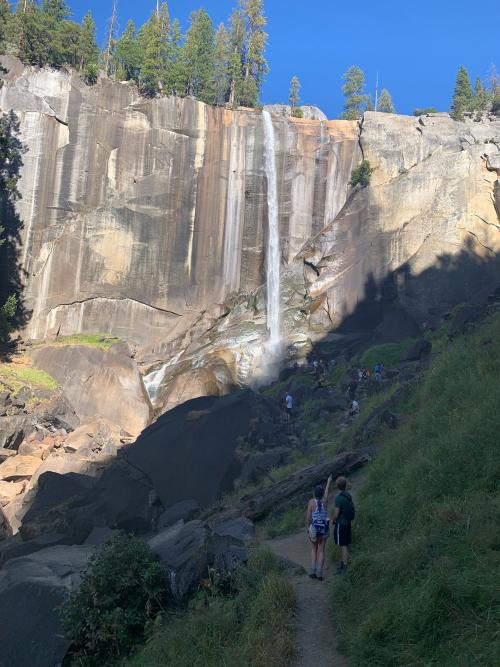 We know what you're thinking: waterfalls tend to slow down when it starts to get a bit chillier, but don't let that stop you from hiking this exciting trail (starting at the Happy Isles Trailhead) that leads to Vernal Falls (3 miles roundtrip) and also Nevada Fall (7 miles round trip). You can still appreciate the trail that ascends out of the Yosemite Valley and up many granite steps along the Merced River. If you're not a big fan of getting soaked by the rushing falls during the summer, then this is the perfect time to visit! 
Above Vernal Fall, the trail continues in order to reach the top of Nevada Fall. Don't forget to stop and take in all the views from up above Vernal Fall! As you continue the Mist Trail, you will begin to experience some steep and rocky switchbacks in order to get to Nevada Fall. Once you've reached the top of Nevada Fall, you can either turn around or choose to continue onto the John Muir Trail for a different route back to Yosemite Valley. If you choose to go through the John Muir Trail, you will get amazing views of Liberty Cap and also see Nevada Fall at a different angle. Click here for trail map/details.
Length: 1.9 miles
Elevation gain: 974 ft.
Difficulty: Moderate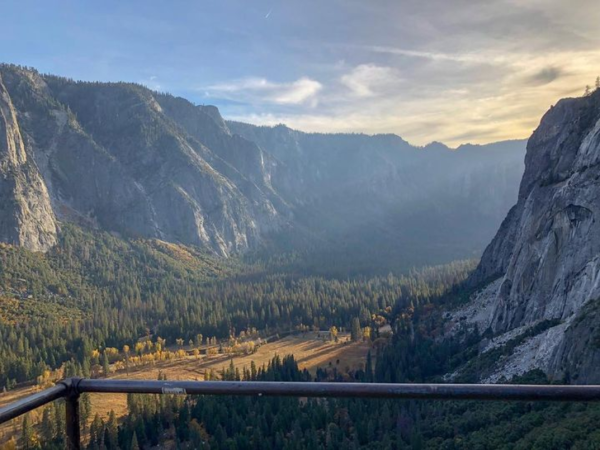 If you don't want to commit to the 7.6 miles journey to Upper Yosemite Falls trail, Columbia Rock is a sneak peak of what the Yosemite Falls trail entails but much shorter! Columbia Rock doesn't show the falls, which are probably flowing very little this time of year, but it does show a 180-degree view along Yosemite Valley from Half Dome in the east to Cathedral Spires in the west. This will be the perfect opportunity to start peeping for fall leaves! Click here for trail map/details.
Sequoia National Park Trails
Length: 0.5 miles
Elevation gain: 183 ft.
Difficulty: Moderate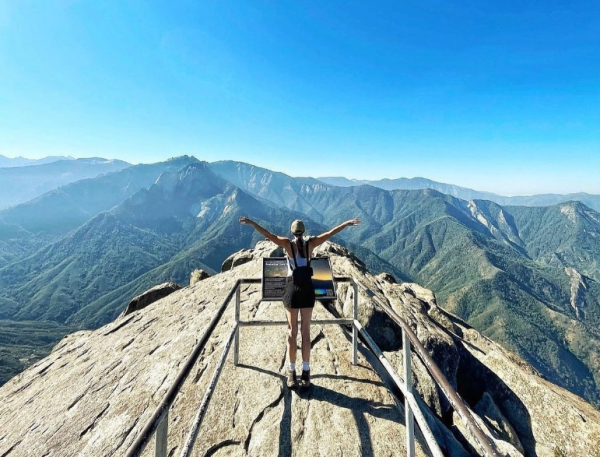 Hike 350 steps up to the top of Moro Rock, where you get a 360-view that includes the San Joaquin Valley, the Great Western Divide and also the deep wilderness to the east. Spectators will be able to see the colors of the landscapes and greenery begin to change from a higher point of view. It is only a 0.5 mile hike but can be strenuous because of the steep climb. Take your time and marvel at the views all around but also be aware of people passing through the narrow path! If you are not a fan of heights, this might not be the trail for you. The top of the rock has rails and you get a good view of how really steep the drop is from up top! Click here for trail map/details.
Length: 1.5 miles
Elevation gain: 314 ft.
Difficulty: Moderate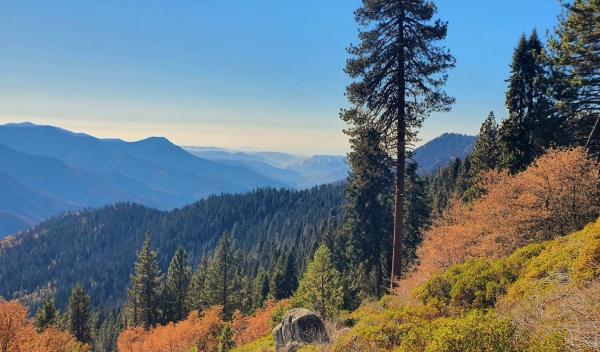 Another short but satisfying hike is Eagle View, a 1.5 mile out-and-back trail that some say has an even better view than Moro Rock! In order to get to Eagle View, you will have to take the High Sierra Trail which is located near the Crescent Meadow. The Crescent Meadow is also a great stop for hikers so they can enjoy the "Gem of the Sierra," as John Muir put it. The peaceful meadow is just a stop away from the ultimate view where you see the whole valley and even spot Moro Rock! Click here for trail map/details.
Length: 3.3 miles
Elevation gain: 793 ft.
Difficulty: Moderate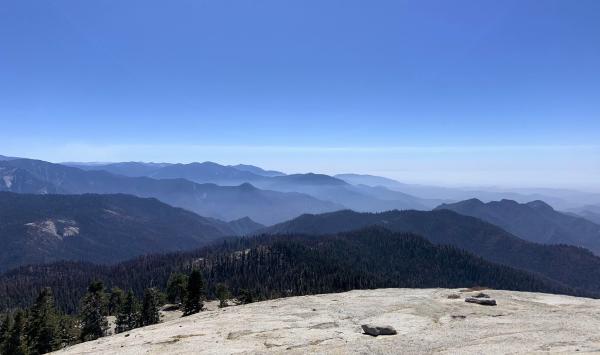 Rising from a sea of evergreens, "bald" mountaintops like Little Baldy stand out for hikers to explore. This trail does have a wonderful view like the other Sequoia trails mentioned on this list, but this one is a bit longer. This 3.3 mile hike is perfect if you have more time on your hands. Hikers will also have a distant view of Big Baldy (6.4 miles) which is a longer version of Little Baldy, hence the name. While on this trail, there will be a bit of switchbacks but hikers can also enjoy all the wildlife around. Once at the top of the dome, you can enjoy the view from any area since it's a wide open bare dome without trees blocking the view. Click here for trail map/details.
Kings Canyon National Park Trails
Length: 8.7 miles
Elevation gain: 879 ft.
Difficulty: Moderate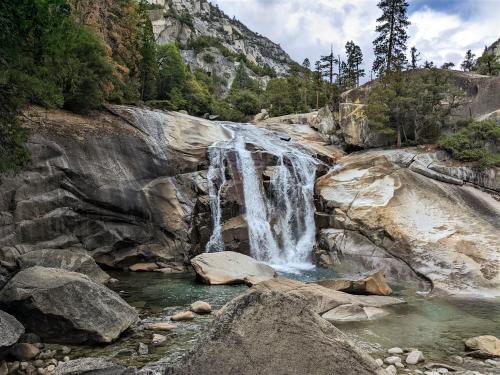 This trail is a must if you are visiting Kings Canyon National Park! There is actually water during this time (mid-October) and you can see some trees along the way changing colors already. This trail is a bit of a long one, coming in at 8.7 miles. But don't fret, the elevation gain isn't all that bad, at 879 ft. Most of the incline happens at the end. As you journey along the trail you are accompanied by the sounds of the rushing waters. Once at the falls, there is plenty of space to sit and possibly have some lunch while watching the falls flow down the river. Click here for trail map/details.
Length: 2.0 miles
Elevation gain: 400 ft.
Difficulty: Moderate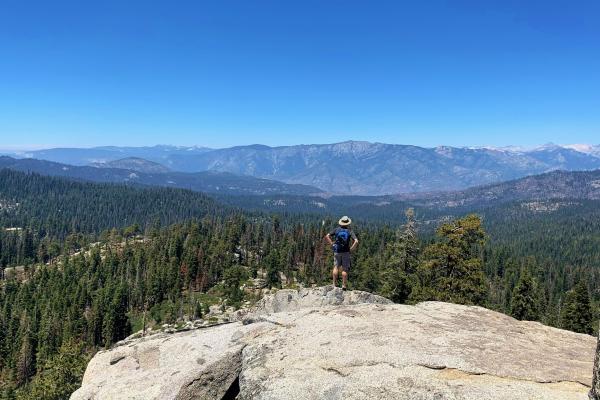 If you aren't looking to go deep into Kings Canyon, Buena Vista trail is a short (2 miles) but satisfying trail to try! The trail lies right off of Generals Highway and just past the Kings Canyon Overlook, where you get to see a much better view of park's high country. Hikers will also be rewarded with amazing views of Redwood Canyon, and Sierra Crest summits. Once you get to the top, you'll  see Big Baldy Ridge extend to the south and the Great Western Divide (very faintly) to the southeast. To the east, Buck Rock Fire Lookout pops out amongst the trees and to the north, hikers will marvel at more views of Kings Canyon against the wall of the Monarch Divide and faint views of snow covered peaks. Click here for trail map/details.
Length: 1.5 miles
Elevation gain: 157 ft.
Difficulty: Easy 
Deep in the heart of Kings Canyon, lies the spectacular view of Zumwalt Meadow. This scenic 1.5 mile trail offers hikers a place to relax as they walk along the high granite walls, through the lush meadows, and see the Kings River curved gently through the forest. The meadow is perfect for kids to leap through and take in the scent of fall. At the end of the trail, there is a boardwalk that shows some of the best views of the meadow with the cliffs protruding above it. If you want a break from climbing big mountains and want to just stroll through the calming woods, this is the trail for you. Click here for trail map/details.