January is National Soup Month, and Fresno County has a "soup-er" selection of m'm m'm tasty options to enjoy at local eateries.
Perhaps there is no better way to brush off the brisk Fresno County winter weather, than with a savory bowl of goodness. But you certainly don't need a reason to slurp up one of these beauties in a bowl.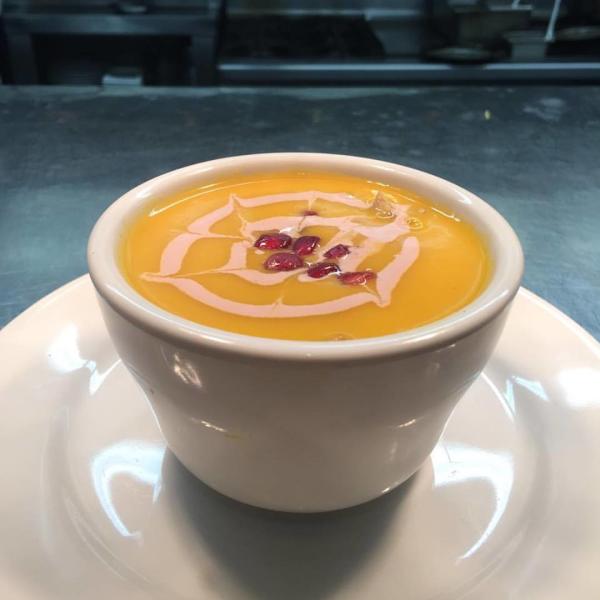 The luscious Butternut Squash soup, served at the School House Restaurant & Tavern in Sanger, is garnished with pomegranate cream and fresh pomegranate arils. 
Cauliflower soup is another smart option when dining at the School House. It's delicately adorned with toasted almonds and chili oil.  
Each dish made at the School House, is house-made, including ingredients like the pomegranate cream, chili oil and toasted almonds.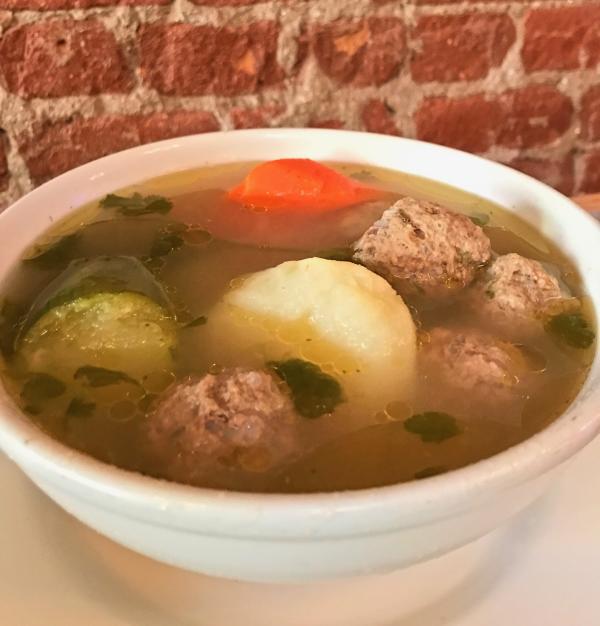 Albondigas is our most popular soup. It could be 110 degrees outside and people are still ordering it."
Jacob, Salsa's Cantina family
The traditional soup is made with beef meatballs, carrots, zucchini, potatoes, cilantro and beef broth.
The order of soup includes fresh, house-made tortillas, rice, mix of cabbage and a slice of lemon.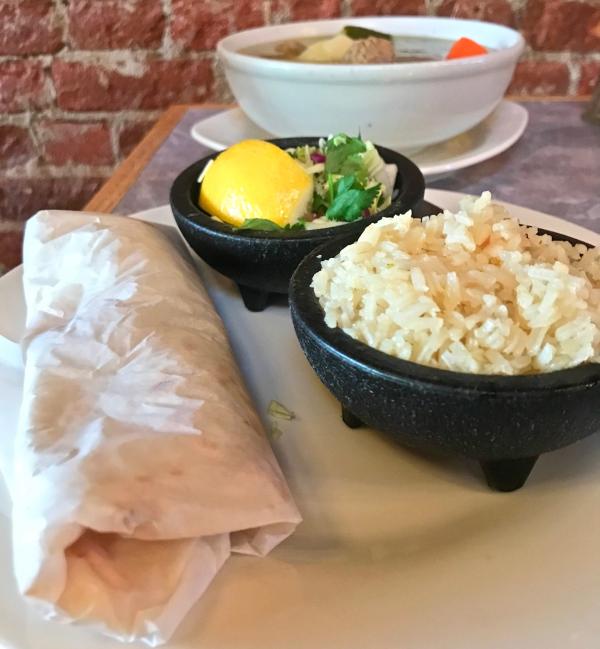 Located in the heart of the Tower District, the long-established local favorite, Grandmarie's Chicken Pie Shop, is known for its chicken pies made from scratch (as everything in the restaurant is made). The restaurant also offers traditional, heartwarming, soups. 
 The Chicken Barley is made with chopped chicken, diced red bell peppers, barely and chicken broth. Or there's the French Onion soup, which includes caramelized onions in beef broth, topped with toasted sourdough bread and melted cheese. 
If French onion is your thing, ordering a bowl of the golden Parisian goodness to enjoy at La Boulangerie is a must. French onion is served daily at the French bakery and cafe in Fig Garden Village.
The Split Pea Soup, a lighter, but just as savory, choice is available a few days a week (rotated among soup of the day options).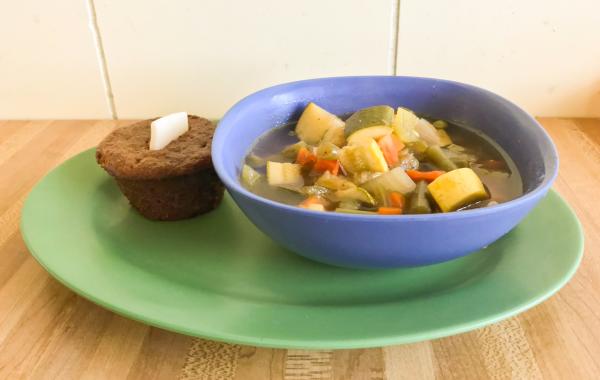 There is nothing like freshly made vegetable soup in Fresno County, where farmers grow an abundance of delicious veggies.
This particular bowl of vegetable soup is prepared at Sandwich Works (Fresno & Ashlan) in Fresno. Everything is made-to-order at this family-owned and -operated restaurant. And as if the taste of this delicious blend of vegetables in hot broth, isn't enticing enough–each order is accompanied with a bran muffin with a nice chunk of butter.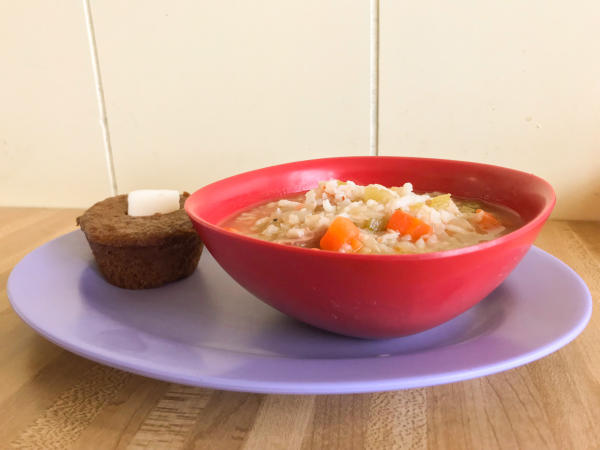 The Turkey Rice soup is a delight with each bite.
When faced with great soup options, decisions can be tough–so it's a good thing the folks at Sandwich Works will prepare a "half and half" bowl–half Turkey Rice and half Vegetable.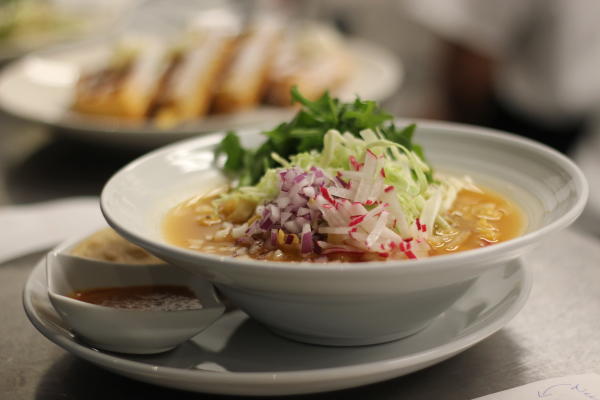 One of the newest to Fresno County's food scene, is Tabachines Cocina (Palm & Herndon). The restaurant offers healthy Mexican cuisine, and its soups are a solid reflection of this.
The Red Pozole, a pork and hominy soup seasoned with red peppers and spices, crispy cabbage, radishes, onions and limes ( served with house-made tostadas to top it off), bursts with fresh flavors.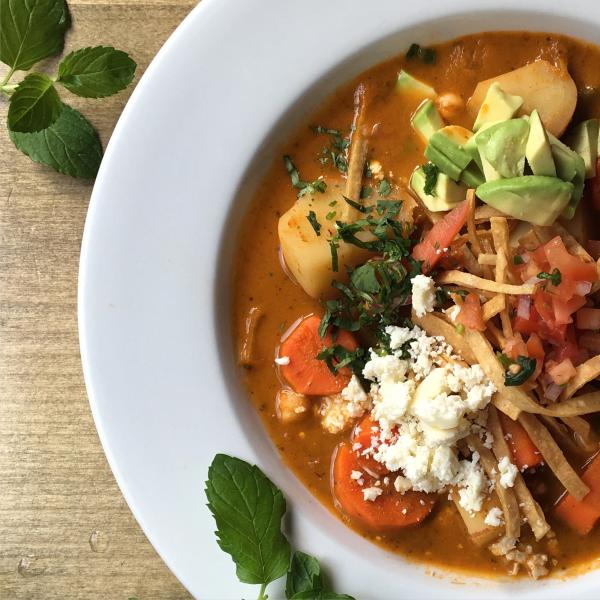 Tabachines' Chicken Tortilla Soup is made with dried mexican chiles, roasted tomatoes and herbs, and topped with cotija cheese, avocado & crispy tortilla–a lip-smacking combo of textures.